2023 Loose Caboose Arts and Crafts Festival  April 1, 2023
Contact Nena Hammond at 601-683-2201or director@newtonchamberms.com for more information.
2023 Loose Caboose Arts and Crafts Festival
2023 Vendor Applicaton: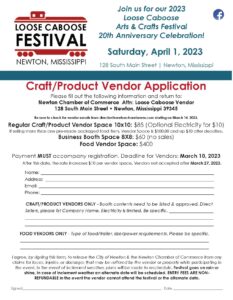 2023 BanFirst Car Show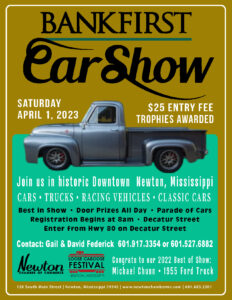 2023 Biewer Sawmill Motorcycle Show
2023 BankPlus 5K
2023 Dixon Capetillo Magic Show
MS Delta Shows Carnival-Friday Night and Saturday
—————————————————————————————————————————
The purpose of the Loose Caboose Festival is to provide a day full of arts, living history, entertainment and enticing foods. The annual festival provides an opportunity for our historic town to share its rich culture with the rest of the state.
The Loose Caboose Festival's name was inspired by the infamous stand-alone red caboose that sits next to the historic Newton Depot. It is a significant and iconic piece of Newton's history given by Senator Terry C. Burton.